OUR PHILOSOPHY
At Element Beauty Clinic, everyone deserves to feel confident and beautiful in their skin. This company was founded with a vision of boosting people's confidence through semi-permanent makeup services that can transform how you look and feel.
For some people, filling in sparse eyebrows, dealing with hair loss or even lacking vibrancy in their lips can be a daily struggle that leaves them self-conscious and lacking confidence.
Meet Our founder
Hello! I'm Keysi, the founder, head specialist & trainer at Element Beauty Clinic. When I founded this company in 2021 I had nothing but big dreams and a strong desire to make a difference in the lives of others whether its through great eyebrows or a PMU career.
I am a passionate being, highly artistic & incredibly detailed - dare I say OCD. I love enhancing a client's natural beauty and boosting their confidence.
When I'm not in full mommy mode, with a toddler at home, I'm in my semi-permanent cosmetics clinic in Miami taking care of my clients or teaching others how to be great Microblading artists.
My aim is for clients to leave our beauty studio feeling like a confident, beautiful, and empowered version of themselves.
READ MORE ABOUT KEYSI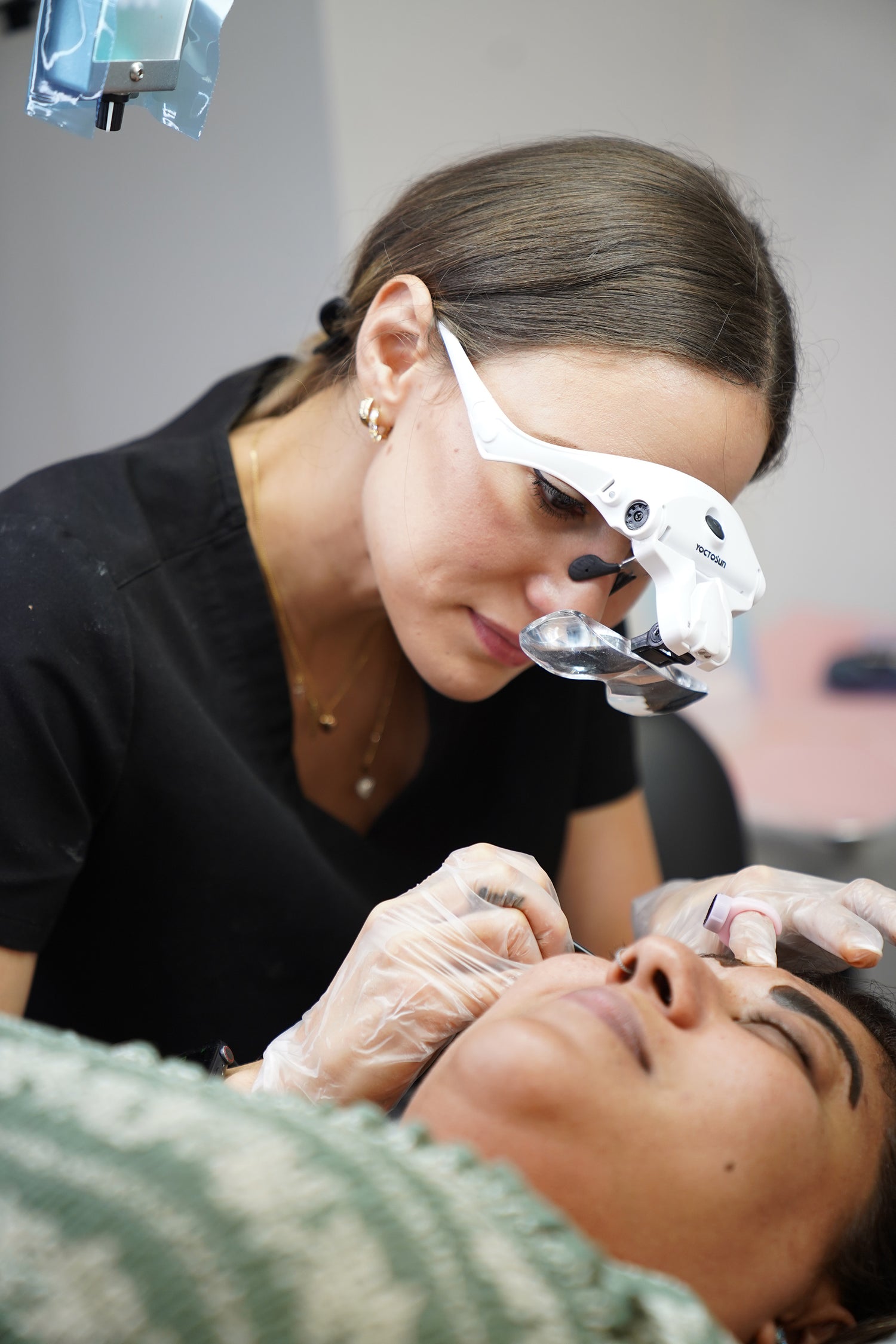 Tired of your job or simply not passionate about it? Do you want to be your own boss and make your own schedule?
Ready to build your PMU empire?
Our exclusive trainings will have you walk out feeling like you're ready to take on the world -- that's our goal!
Learn our highly sought after hyperrealistic techniques that will have you stand out from the rest of the market.
Train Nanoblading with us and be one step closer to gaining financial freedom all while enhancing people's beauty. We offer one of the best Microblading trainings in Miami.
Want to know more? Click here
What Our Clients Say
Wow wow wow, I did my eyebrows with Keysi a few days ago and her level of professionalism is top-notch! She seems to really know her stuff. I was incredibly nervous and did so much research before finally booking my appointment with her. Boy am I glad that I did! My girlfriends couldn't even tell what's fake and what's my real eyebrow hair!

I love that she listened to what I was looking for and did just that. Her studio is also very clean and organized. I highly recommend her to everyone. Thank you Keysi!

Leslie R.
Keysi is amazing! I had my touch up a few weeks ago & I get so many compliments it's unbelievable. Keysi made my eyebrows look so natural that I can't even tell they're not. She's professional, talented, and all around great! Listen to everything she tells you, she's right about every step of the process and do what she says. You won't regret it!

Lisa Santhana
What a great experience!!! Its the 1st time I do something to my eyebrows. I was soo scared, but as soon as I met Keysi, I knew I was at the right place, with the right person. Keysi is a great artist, she is detailed oriented, she works with you to get the perfect shape and color, she explains to you the process step by step, she is very knowleadable and cautious. No pain at all, her place is extremely clean, she has a great eye for beauty, perfection. The entire experience was excellent, from the moment I entered her studio, she was very professional, kind, welcoming. My eyebrows look soooo beautiful!!! . My market research paid off. And I got my eyebrows done by the best!! Im 100% confident it will be the same experience for everybody.

Daisy Pirajan
After searching for the past 4th months for the perfect beauty clinic to do my eyebrows, I decided to go with Element beauty clinic and could not be happier.
Keysi is amazing! Super professional, explained the process, and set expectations. She did the natural look that I was looking for. I can't thank her enough  
I highly recommend her place.

Monica H
I love my eyebrows!!!! She's very professional. Everything is very clean and the atmosphere is very nice and relaxing. I'm recommending Keysi 100%.

Me encantan mia cejas!!!! Ella es muy profesional y meticulosa con todo, todo es súper limpio y el ambiente es súper relajante. La recomiendo 100%.

Sandra R
Frequently Asked Questions
What exactly is Semi-Permanent Make-up?

Semi-permanent make-up is a cosmetic form of tattooing. The semi-permanent services we offer are: Nano Microblading, Nano Microblading & Shade, Nano Machine Strokes, Sun-kissed freckles, and Lip blush.

Pigment is implanted into the superficial layer of the skin with a handheld or machine tool. Our services are highly detailed and require ultimate precision. This is why our results are incredibly natural looking.

In our clinic, our techniques can last approximately 6-18 months until it eventually fades away. A touch-up is recommended to keep the look fresh.
Which eyebrow technique is right for me?

We will have a 10-15 minute consultation the day of your treatment. During this consultation, I will advise on which technique is most appropriate for your skin type and lifestyle.

Clients can also text a photo of their brows and we can direct you to the technique we think will work best for you.

Nanoblading/Microblading: If you are not one to paint your brows in, have normal/dry skin, and have pretty full brows, then you can opt for this service. For oily skin, retention rate will be shorter and the strokes might not heal as thin and crisp.

Nanoblade/Microblade & Shade: If you have patchiness, have oily skin, have less hair on one brow than the other, or no hair on your brows — this service is usually recommended for better results.

Powder Brows Combo: This service is for clients that want more of a make-up look or have really oily skin where Nanoblading/Microblading alone won't last.

Nano Machine Strokes: This service strictly uses a machine and is for clients that want a natural look but aren't candidates for Nanoblading/Microblading. This could be due to you having sensitive or oily skin. This technique can also last longer than Microblading.
How long does it take to heal?

There is essentially no downtime with these procedures. Some clients, however, do experience slight redness (brows) and possibly even slight swelling (lips) for the first couple of hours post-treatment.

For more information regarding the healing process for each treatment, please visit our WHAT TO EXPECT page.
Does Nanoblading hurt?

Everyone has a different pain tolerance and it is subjective. In most cases, clients experience mild to no discomfort during the treatment. A topical numbing cream will be applied after the initial pass.

For most clients, they will describe the feeling as a light scratching or similar to tweezing and that it's completely tolerable.

We want clients to be as comfortable as possible while also ensuring that we do all that is possible to have great healed results!
What's the difference between Nanoblading and Microblading?

At Element Beauty Clinic, we use the term "Nanoblading" instead of "Microblading" because we use nano blades. Traditional micro blades are twice the size of a nano blade. Using a nano blade means less trauma and more realistic hair like strokes.
Will I need a touch-up?

Every client is different. It all depends on multiple factors (i.e. skin type, lifestyle, if medications are taken, skincare routine) and more importantly, the client's desired results.

Most clients, however, find that one session is enough to achieve their desired results (depending on the treatment, of course).
SCHEDULE A FREE CONSULTATION
If you're unsure of what to schedule or which technique is best for you, click the button to schedule your free virtual consultation.
schedule my consultation
CONTACT US OR SCHEDULE YOUR APPOINTMENT